HOME     SCHEDULE     RESULTS AND STANDINGS    CONTACTS    LINKS    PHOTO GALLERY    SPECIAL AWARDS      NEWS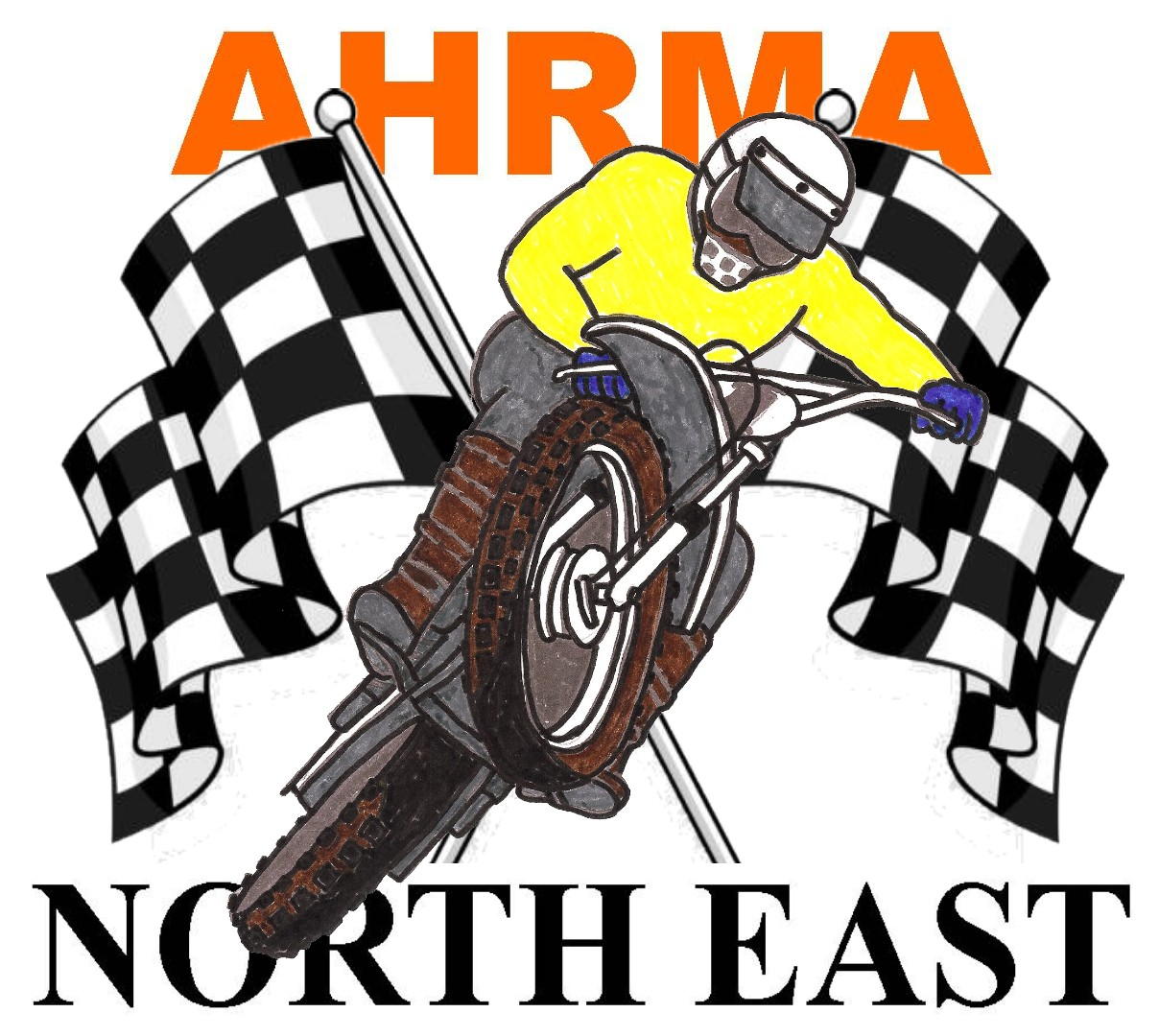 Vintage and Post Vintage MX, XC, Trials
We offer 3 series of Vintage and Post Vintage motorcycle events; MX, XC, and Trials, with year end awards in all series!  Most events are at the same location on the same weekend so a rider can participate in more than one series without having to travel excessively.
In order to race an AHRMA sanctioned event you must be an AHRMA member.  We can sign you up at the track or you can click here to get a membership application.
The schedule may be updated or events added during the course of the season, so please check back here often for the most recent information.
♦

 The last race of the season is coming up on October 7-8 at Logan's Farm in Cortland, NY.  Please note that this event is double points!  Several year end Championships are undecided and not only are double points offered but also this event counts as two events toward your total for the year!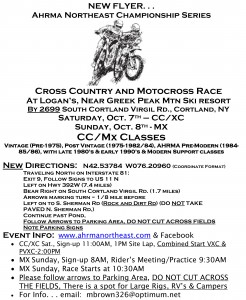 SERIES SPONSORS:
Click on the image below to see the most recent schedule.
Additional information will be updated soon.
  Below is the 2017 Schedule.  Check often for updates.
Vintage and Post Vintage MX 2017
BEST FIVE (5) EVENTS NEEDED TO QUALIFY FOR END OF YEAR MX AWARD
Most MX events include all AHRMA Vintage Classes and Post Vintage Classes, and also may include modern support classes.  Unless otherwise stated the following schedule will apply.
8:00am    Sign-up

9:30am    Practice

10:30am  Racing begins
•April 23   Irish Valley
Paxinos, PA
www.Irishvalleymx.com
•June 3  Unadilla Rewind   Vintage MX 
•June 4   Unadilla Rewind   Post Vintage MX
New Berlin, NY
www.unadillamx.com/rewind/   
•June 11  Bear Creek Sportsmen 
Hancock, NY
www.bearcreeksportsmen.com
 •June 25   Allen's Farm
Lawton, PA
www.jenningsatvandcycle.com
Allens Farm MX Flyer_Aug_2_2015
•July 15-16   AHRMA National Field of Dreams
Millville, NJ
Vintage MX (Sat.)  Post Vintage MX (Sun.) Field of Dreams MX
•August 27   KELSO CREEK CLASSIC
Minerva, NY
•September 24  Lamoka MX
Fish Hill Rd, Bradford, NY  (overlooks Lake Lamoka)
https://www.facebook.com/LamokaMotocross
•October 8    Logan's Farm (DOUBLE POINTS- counts as two races)
2754 S. Cortland Virgil Rd
Cortland, NY  13045
Click on this link for the standard mx race order we will be using at most events → VMX_AM_RACE_ORDER_W-SUPPORT_2014
Cross Country 2017
BEST FIVE (5) COMPETITION EVENTS NEEDED TO QUALIFY FOR END OF YEAR XC AWARD
•April 22   Irish Valley
Paxinos, PA
www.Irishvalleymx.com
•June 2    Unadilla Rewind
New Berlin, NY
www.unadillamx.com/rewind/
•June 10   Bear Creek Sportsmen 
Hancock, NY  (Trail Ride Only)
www.bearcreeksportsmen.com
•August 12-13    2 Day XC
King Ferry, NY
•August 26   KELSO CREEK CLASSIC
Minerva, NY
•September 9-10  Bear Creek Sportsmen 
Hancock, NY  ISDT 2 Day Qualifier
www.bearcreeksportsmen.com
•September 23   Lamoka MX (Cross Country)
Fish Hill Rd, Bradford, NY  (overlooks Lake Lamoka)
https://www.facebook.com/LamokaMotocross
•October 7  SMOG Ride    Fun ride, Spanish Motorcycles only, no points.
Coeyman's Hollow, NY
SMOG      
•October 7    Logan's Farm (DOUBLE POINTS- counts as two races)
2754 S. Cortland Virgil Rd
Cortland, NY  13045
Trials 2017